Free Speech
Canada's Charter of Rights and Freedoms acknowledges that all citizens of Canada have fundamental freedoms that are subject only to "such reasonable limits prescribed by law as can be demonstrably justified in a free and democratic society". These fundamental freedoms are:
"(a) freedom of conscience and religion;
(b) freedom of thought, belief, opinion and expression, including freedom of the
press and other media of communication;
(c) freedom of peaceful assembly; and
(d) freedom of association."
What I wish to draw your attention to is item b) which can best be summarised as "freedom of speech and freedom of the press".
Why are they important? There is a newspaper in the US that has the byline "democracy dies in darkness". I find it ironic that a newspaper that has become notorious for promoting an orthodoxy chose to wrap itself under that line, but I digress. The issue is one where we, if we consider ourselves a free people, need to be aware of the politics that surround us. Some of those politics serve to bind us, others serve to divide us and yet others serve to subjugate us. It therefore is imperative that we expose ourselves to dissenting views to ensure we are not being lied to. Otherwise, we are seriously at risk of losing the freedoms that we associate with being a democracy.
While the political spectrum is broad it can be simplified in that there are two end members to that spectrum. One that values independence and one that values power. The latter typically is manifested by a large impassionate government ruled by a tyrant and supported by petty tyrants.
Back in the days of "The Enlightenment" (17th and 18th centuries) one philosophy that became generally accepted was that of "liberalism" whereby the freedom of the individual is protected and enhanced with a major proponent being John Locke. It is from this "liberalism" that sprung the ideas laid down in our Charter of Rights and Freedoms. We accept that we are masters of our own destiny, but we must also respect the rights of others. It is here that we run into difficulty in that many amongst us use perverse language to persuade the rest of us to give up our personal liberties. I for one am for cooperation with others, as that has many benefits, and is a character trait of humans yet is seldom exhibited by other species. But not at the price of giving up my freedom.
It was through revolution that the concept of freedom of speech and of the press became understood to being an important protector of our independence. When dissent can act then truth can become evident. And the only way dissent can be heard is if we retain the right to be exposed to dissenting opinions and ideas so that we can best gauge where the truth lies. Because those who are more interested in power rely on falsehoods. It is easier to take away an individual's freedom if they can be fooled into believing it is for their own good, or the good of others by taking advantage of our innate altruism – the willingness to help others.
Even though free speech and freedom of the press are so important for the survival of our democratic society I for one am very troubled by the willingness of so many of us to give up these freedoms. We see that with so many media sources who only pay lip service to presenting dissenting views. Their dishonesty is easy to see. All one needs to do is look where they present "opinion". If they show an unmistakable bias toward one viewpoint that media source has "turned to the dark side".
This is a good point to look briefly at the "Star Wars" movies as they are collectively an allegory between two opposing forces (freedom versus power or good versus evil); "The Rebellion" and "The Empire". Which side do you believe represents you? The one that uses any method available to regain their freedom or the group that believes "order" is paramount, and no dissent is tolerated? Yet many of us see ourselves as being members of the "rebel alliance" but insist on curtailing or even eliminating the rights and freedoms of others; we actually embody "The Empire".
Take for example any person who accepts that "hate speech" is not acceptable in a "free society". They are promoting the curtailment of the right to dissent; "free speech". All you must do is ask yourself, "what is hate"? If a person uses the word "hate" in a sentence does that then make it "hate speech"? If the best you can come up with is some subjective explanation, then you have fallen into the trap of willingly giving power to those who should not have it. Similarly, any media source that believes a "diversity of views" means having more than one person saying the same basic idea rather than presenting truly dissenting views has also succumbed. In both cases they have in Star Wars parlance, "turned to the Dark side".
In closing all of us need to reflect carefully on where we personally stand. Is freedom of speech and freedom of the press important to you? If yes, then welcome to the "light side". Our democracy will not founder if we allow the light of truth. As Leonardo da Vinci said, "Beyond a doubt truth bears the same relation to falsehood as light to darkness."
Reflections on Covid
This "pandemic" was first made out to be a profoundly serious scourge based on a computer model generated by the Imperial College in England. It has proven to be wrong.
Early on we had indications that it was not as virulent as predicted due to several petri dish like examples, such as the Diamond Princess cruise ship (1) and the US aircraft carrier Theodore Roosevelt (2). In both, although everyone was in close contact due to the fact they were isolated together on ships, no more than about 12% had symptoms and very few died. These are summarised in the table below.
| | | | | |
| --- | --- | --- | --- | --- |
| | Diamond Princess | USS Theodore Roosevelt | Total | % |
| Number of Passengers/Crew | 3711 | 4779 | 8490 | |
| Positive "Test" Results | 619 | 1271 | 1890 | 22% |
| Those with Symptoms | 301 | 699 | 1000 | 12% |
| Died | 14 | 1 | 15 | 0.2% |
From these numbers we can make some observations. For example, 88% of all on board both ships did not have symptoms. One would be safe in saying that the natural immune system for those passengers and crew was 88% effective in preventing infection from this virus. Of the 22% who tested "positive", almost half of those never experienced symptoms. This is likely due to a combination of a) being asymptomatic (infected but did not exhibit symptoms) and b) false positives (the test gave incorrect results). If the latter, this does not bode well for the "test" being vey reliable. For a "pandemic" it is obvious that this virus is not very communicable as only 12% ended up being infected even though in close contact in an environment difficult to prevent spreading of a communicable disease. Similarly for a virus that is implied to be very deadly, it is not.
Earlier this year another research paper came out that examined whether cross-contamination between cabins on the Diamond Princess took place (3), something one would expect if the virus was airborne. The researchers concluded "airborne transmission did not occur between cabins during the outbreak".
Another aspect that is worth exploring is the demographics; how did this virus affect different age groups (4)? Here are the numbers for the province of Ontario from when the virus first broke out to today (August 8, 2021).
| | | | | |
| --- | --- | --- | --- | --- |
| Age Group | Deaths | % of Deaths | | % of Population |
| Under 20 | 5 | 0.05% | | 0.000% |
| 20-29 | 27 | 0.29% | | 0.000% |
| 30-39 | 62 | 0.66% | | 0.000% |
| 40-49 | 147 | 1.56% | | 0.001% |
| 50-59 | 468 | 4.98% | | 0.003% |
| 60-69 | 1100 | 11.69% | | 0.007% |
| 70-79 | 1934 | 20.56% | 80.76% | 0.013% |
| 80-89 | 3185 | 33.86% | 60.20% | 0.022% |
| 90+ | 2478 | 26.34% | 26.34% | 0.017% |
| UNKNOWN | 1 | | | 0.000% |
| Total | 9407 | | | 0.064% |
| | | | | |
| Ontario Population | 14,700,000 | | | |
For any "pandemic" what is of most concern is the likelihood it will cause death. If you get infected but recover, what is there to worry about? As we can see this virus is not very deadly with only 0.064% of the population dying from it over almost a year and a half. Note too how most of those deaths were of people 70 or older (80.8%) with those younger than 50 barely affected.
Was the lockdown worth it? An article in the Wall Street Journal by T.J. Rodgers (5) examined that very matter. He and his co-workers ran a simple one-variable correlation of deaths per million and days to shutdown for each state in the US. Like the provinces in Canada, each state determined if, and when a lockdown was warranted. The correlation coefficient was negligible; going to lockdown did not produce any recognisable advantage. What has happened in Sweden, a country that did not impose any lockdown or forced mask mandate, has confirmed that analysis.
So why did we go to lockdown? While a good question I for one have no answer. It was a course of action that has never been tried before and on such a grand scale. But what it has done is expose a cancer in just about every country that went down that path; unelected bureaucrats enabled and emboldened by unquestioning media have perverted politicians of every political persuasion. With exceedingly rare exception no scientifically supported justifications have been produced to support the irrational and inconsistently enforced "rules" imposed. If there is rioting in the name of "social justice", such as Black Lives Matter or Antifa then there are no arrests for being too close or not wearing masks. But if you protest the lockdown rules it is quite a different story. While I for one am not happy with what we have been subjected to at least we are better off than the state of Victoria in Australia where their political leadership have proven they are not a "democracy" but a dictatorship.
I find it very troublesome in that at its very core are career bureaucrats who have little insight to the real world making such life changing decisions based on little, if any, facts, and we are unable to make them accountable. They seem to ponder the question "what ridiculous rule can I come up with just to mess with people's minds"? With little if any oversight by elected officials. An obvious example was having nothing to do with masks when the virus was at its peak but after the worst well behind us, this was the time they should be mandated? Or better yet, talking about multiple waves and variants when the reality is that far more testing is being done using a method that is overly sensitive to even those who have recovered plus has never been proven to be able target SARS-Cov-2. Never mind the prevalence of false positives. We continually are inundated by panic porn and lies from a strident yet immoral media and government.
This epidemic has proven that Trudeau is not a "leader". He has shown an inability to surround himself with smart people with, most importantly, high morals and ethics. In fact, he has proven too many times that he is oblivious to good morals and ethics.
I try to be optimistic for the future but with all major media that too has lost all sense of good morals and ethics along with far too many in government in the same boat it is exceedingly difficult. I see no short-term answer other than to repeal as soon as possible the draconian emergency measures legislation that gave elected and unelected officials the ability to overpower what are supposed to be our basic "rights" without any oversight. I am not holding my breath. This country is quickly approaching a tipping point which we will regret and for which we will pass the point of no return before saner minds can save us.
References
(1) "Estimating the infection and case fatality ratio for coronavirus disease (COVID-19) using age-adjusted data from the outbreak on the Diamond Princess cruise ship", Russell et. Al., February 2020 – https://www.eurosurveillance.org/content/10.2807/1560-7917.ES.2020.25.12.2000256
(2) "An Outbreak of Covid-19 on an Aircraft Carrier", Kasper et. Al., December 2020 – https://www.nejm.org/doi/full/10.1056/NEJMoa2019375
(3) "Lack of cross-transmission of SARS-CoV-2 between passenger's cabins on the Diamond Princess cruise ship", Xu et. Al., January 2021 – https://www.ncbi.nlm.nih.gov/pmc/articles/PMC8046742/
(4) Age and Gender Data for Ontario – https://covid-19.ontario.ca/data
(5) https://www.wsj.com/articles/do-lockdowns-save-many-lives-is-most-places-the-data-say-no-11587930911?mod=article_inline
In Support of Industrial Incinerators
A while back I came across a report on a large incinerator complex in Austria, Spittelau, that is used to process garbage. From about 250,000 tonnes of household waste, they produce on average 60 GWh of electricity and 500 GWh of heating to local homes and businesses. In fact, the energy extracted is enough to heat more than 60,000 households. Austria imposed a law forbidding the dumping of untreated waste, something we do without thinking of the ramifications yet with the belief we are being "environmentally friendly" whereas Austria is not only talking the talk but walking the walk.
At the facility, the waste is incinerated. The hot flue gases are passed through a heat exchanger to generate steam which is then piped to local homes and businesses for heat or sent through a steam turbine to generate electricity. The flue gases are then cleaned using state-of-the-art systems. Only then are the purified flue gases released to the atmosphere.
In addition to heat and electricity the plant generates about 6,000 tonnes of scrap iron and 60,000 tonnes of clinker, ash, and filter cake. So, from an input of 250,000 tonnes the output is 26%, or about ¼. In addition, the scrap can be sold for additional revenue and the clinker used in concrete construction.
We have been told for a long time now to follow the 3 R's: Reduce, Reuse, Recycle. In Europe they follow that mantra. Why don't we? Ironically, we do not have industrial scale incinerators in Canada with purification of the flue gases because of … environmentalists! The people who pound on us for being wasteful and to be environmentally friendly yet lobby to prevent viable solutions! The excuse is always the short-sighted view in that "they produce air pollution".
For a long time, incineration was a staple for many people to reduce the amount of garbage that would go to the local dump. Even there, waste was typically burned. As a result of both measures dumps lasted for years before a new location was needed. With the advent of landfills, and the ban on the incineration, we now have quickly growing mountains of waste; buried out of sight but impacting local ground water. Not smart.
We need to push back on these "environmentalists" as their dishonesty is causing more problems than we had previously. Another irony, to be true to the ideals of environmentalism we need to fight environmentalists! All because they are dominated by parasites who use this to live off the rest of us under the guise of "saving the earth" while all we have done is find ways to do damage differently. This needs to stop! And implementing industrial scale incinerators with state-of-the-art technology is a big step in the right direction!
A place where we could start is if the Ontario Power Generation facility on Mission Island that has recently been sold to a company that specialises in demolition. It should be converted instead of being demolished. The facility, in general terms, is already an incinerator! It burns solid fuel to generate steam which then is fed to electrical generators. Sure, it is not optimal in that the flue gases are not treated by state-of -the art technologies, but that can easily be changed. A proper threshold to measure anything like this to is what is currently acceptable. At worst, any such plant should not generate any more air pollution that the Resolute paper mill, yet we all know we can do far better, so why not do it? For a fraction of the cost of building a purpose-built facility the new owners can convert this one such that it can be a beacon for the rest of Canada on how to truly follow the Three-R mantra of Reduce, Reuse, Recycle.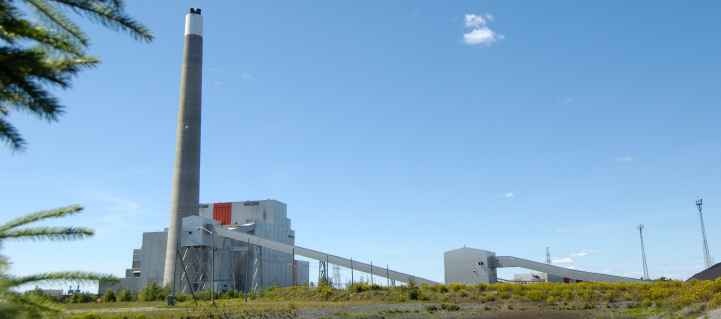 The city of Thunder Bay would then have a means to save themselves a lot of money with the benefit of being able to buy relatively cheap power and reducing the pressure on the tax paying residents of the city. Rather than trucking solid waste to the John Street land fill garbage trucks would travel a shorter distance to Mission Island. The new owners of the complex, by not having the huge capital costs associated with the construction of a plant from scratch, would be able to sell at a profit, electricity to Thunder Bay Hydro at a cost very competitive to the best rate Hydro One is able to offer. And this is just a start of the many positive upsides that can be experienced! For example, after the steam has condensed the hot water could be directed to an attached greenhouse facility allowing year-round production of produce that no longer would have to be trucked in from distant sources.
Thunder Bay and the new owners of the plant are at a juncture of two roads. The one to the left is the one the pessimists would encourage. Ironically, they call themselves "progressives" but in fact they promote the opposite. The branch to the right holds so much promise including enhancing local job opportunities, reduced costs for the city and a better environment! Now, that is what I would call "progressive", where the future is better than the present. Which path do you want to take? The choice is yours.
The Wrong Path Taken
There is in the news a lot these days about something called the "Great Reset", what ever that means. Having said that I would like to see a reset, one where we go back to a time where everyone was considered "essential". Where we did not have a government trying to bankrupt us resulting in, we, the people, risking freezing in the dark. And we all know that with our climate, which unfortunately has not got any warmer, that death by freezing is far too likely. A time where government would not even think of trying to impose restrictions on us without solid evidence that it worked and that had been properly vetted by our elected representatives rather than imposed by a heartless bureaucracy.
A time when "government" was involved in setting reasonable rules that still allowed free enterprise to do its magic of providing jobs for those with, at times, simply basic skills and producing products that at one time were only available to the rich and in doing so made us feel richer than we really were. A time where we showed much more respect for one another. Where we felt that we were equal in that we all had the same opportunity no matter our wealth status.
I could go on, but I hope you get the point. Up until the early 1990's that was our world. As Timbuk 3 sang back in 1986, at that time we all thought with reasonable certainty that "the future is so bright, I gotta wear shades". Now the future is looking darker and darker as our Provincial and Federal leaders have forgotten, some intentionally, why they were elected in the first place; to provide good government to Canadians and ensure our future and the future of generations to come.
I know that by wanting to go back I sound like a traditional Conservative, one who "conserves" and does not like change but that is not the case. Rather staying on the beaten path and building on past accomplishments we let ourselves get sidetracked on a path that even at that time was fraught with uncertainty as the reasoning used was unsound yet far too many of us had grown complacent and privileged to the point that it was believed we could do what was impossible. Too many bought into the idea we were omnipotent. We are not, never have been and never will. We went down the wrong path for the wrong reasons and the time is running out to backtrack to where we went wrong and get back on the right path. Let us not be like those people who followed their GPS down a back road during winter to become stuck and end up freezing to death just because they gave unquestioned fealty to that fancy gizmo they thought was taking them down a better path. There is no shame in admitting you were wrong and backtracking to a better route forward. That is a reset worth doing, while we still can.